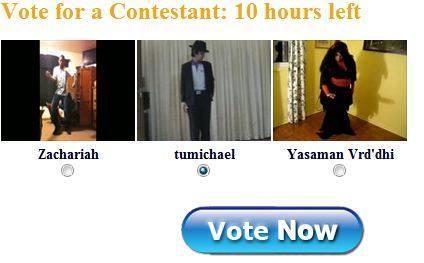 The voting session for 15minutesnow Online Dance Contest has begun! And I am honored to be one of four contestants! I've gone through Daily Winner, Weekly Winner and Monthly Winner. Will I achieve Grand Prize Winner? It all depends on all viewers from all over the world:
"A world of viewers will decide who wins! There are no assigned judges on 15minutesNOW.com, anyone who has access to the internet and visits the website is a judge and can vote for you."
Each vote counts! This is very important for me! By winning this, I can spread MJ's legendary Moondancing to the world. It is my dream! So, please vote for me no matter who you are or where you from. Maybe you are just a blog reader, a Michael Jackson fan, a gamer and since my blog is written about various subjects, you will stumble onto this blog post by chance. Please spend some time to register on 15minutesnow.com and vote for my Moondancing video (tumichael). The registration process is really fast and easy!
This is some info about 15minutesnow together with screenshots of how easy you can create an account there: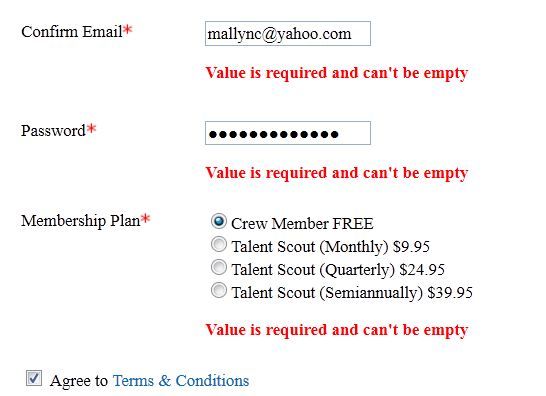 Grand Prize Winners:
$1,600 Cash Total and 4,250 NOW Points Total (By winning Weekly, Monthly, Quarterly)
Professional Website designed and created by Intellisparx
All winners will receive airfare to San Diego, CA and lodging. Music category grand prize winners will have a music video professionally produced. Dance and variety grand prize winners will have scenes in the professionally produced music video
Performer Benefits – Starting June 25
Receive expert critique of your performance
FREE 1 month "Talent Scout" membership with video upload (effective after time of upload)
100 NOW Points for each video upload
Chance to be entered in a daily competition
Prizes
$25 Retail Gift Card (Daily Winner)
250 NOW Points (Daily Winner)
$100 Cash and 500 NOW Points (Weekly Winner)
$500 Cash and 1,000 NOW Points (Monthly Winner)
$1,000 Cash 2,500 NOW Points (Quarterly/Grand Prize Winner)
15minutesNOW.com is an entertainment competition website in the spirit of popular television shows. Videos will be selected for daily competitions, accordingly, with winners daily. Daily winners then advance to a weekly competition, weekly winners advance to the monthly competition, and monthly winners advance to the grand finale/quarterly competition.
Again, please click HERE to create an account (very fast and easy) to vote for me! My clip is "Smooth Criminal Remix" by tumichael! Thank you so much!!!