On August 4th, 2011, I had a chance to perform for 808 Dance Community. It was a dance party with a cool name "Cocktance Party", and "Hanoi Rock city" Bar was chosen to hold such a great event.
"Dance like there's nobody watching,
Love like you'll never be hurt.
Sing like there's nobody listening,
And live like it's heaven on earth."
It was a quotation posted on 808 Dance Community Facebook Page. And it was really true! During the party, I could see the spirit of Vietnamese young generation. Just like "Back to time" party a year ago, I was amazed at the way Vietnamese youngsters hold a party full of great and inspiring performances.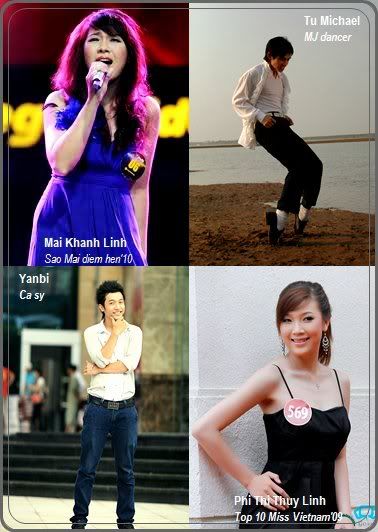 Together with other three celebrities, I was invited as a guest star to contribute a warm-up performance with my Moondancing. Actually, I was quite busy with my work at Vietcombank, but it was a good chance to promote Moondancing so I did not hesitate to join.
As usual, "Blood on the dance floor" was the best choice for such an open and dynamic dance party. My performance was applauded a lot. Personally, I thought it was just an okay one. The MJ's spirit was good, dance moves were quite firm and blended into the melody, hold positions were good. However, there were some minor things that I did not satisfy. Sometimes, the moves were not finished well (at 00:36, 01:03). The robot moves at 01:50 were terrible without popping. The biggest error must be the slip at 03:43 after spinning. And the jump-off-stage to interact with audience was fairly effective.
Congratulations 808 Dance Community for holding such a great dance party!
These are some backstage photos from that night:
Some info about 808 Dance Community:
Named after the first and the most well-known drum machine – Roland TR-808, the community was developed with the aim of connecting passionate dancers and choreographers, inspiring people and enhancing the progression of Vietnamese dance industry.
808 Dance Community head office is located in 808 Studio.
Address:
Ba Dinh District's Culture and Sport Centre
No.9 Thanh Cong Street, Ba Dinh District, Hanoi, Vietnam
Website: http://www.808danz.com
E-mail: 808danz@gmail.com
Facebook: http://www.facebook.com/808danz