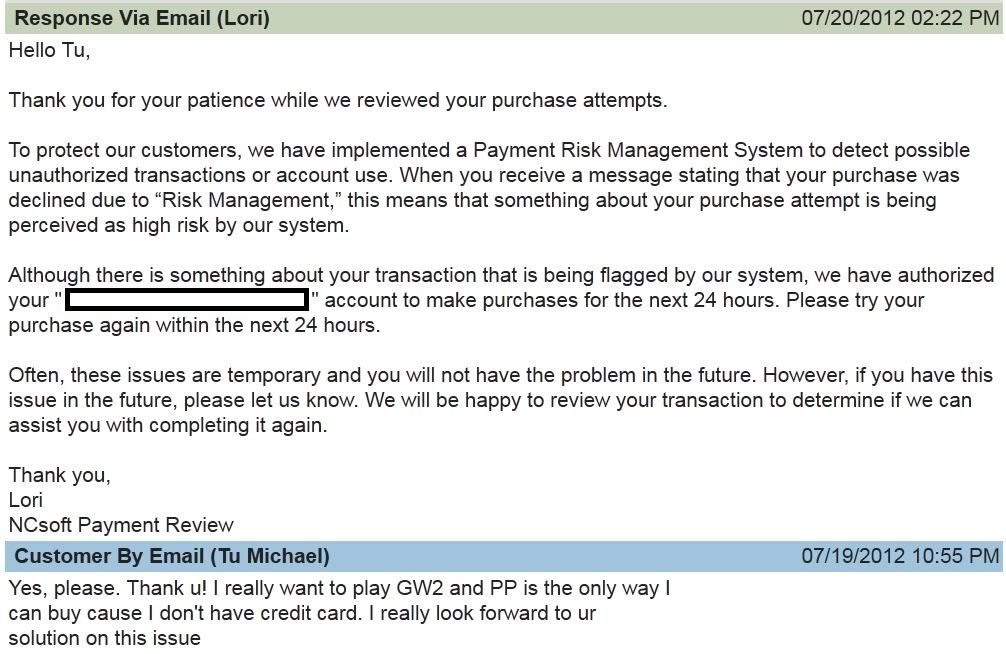 If you are trying to buy "Guild Wars 2", you may encounter a problem with the payment method like I did.
I tried many times with my paypal/credit card, but the payment can't go through. It showed "An error occurred finalizing your purchase."
I contacted Guild Wars 2 Customer Support Team, they said something about my purchase attempt is being perceived as high risk by their system. They suggested me buy from an authorized online retailer who has the game available for purchase.
However, after discussing with them, they allowed my account to buy the game via paypal within 24 hours. You can read their email to me from the image in this post. So, just keep negotiating with them! As you can see from the email's time, they are very responsive. I've played the Beta and it was amazing! This game is gonna be a big hit so don't miss it! See you in-game and please add me TUMICHAEL.9056!
And if you need a Guild Wars 2, please take a look at this "Guild Wars 2 Leveling" (wait 5 secs then click "skip ads"). It is considered as The Top Selling Leveling Guide With Leveling Strategies Covering Every Aspect Of Guild Wars 2.
If you are still having difficulties in purchasing Guild Wars 2 via paypal, you can simply buy the game from Amazon with a bonus offer here:
But remember to act quickly because Guild Wars 2 is often out of stock on Amazon!